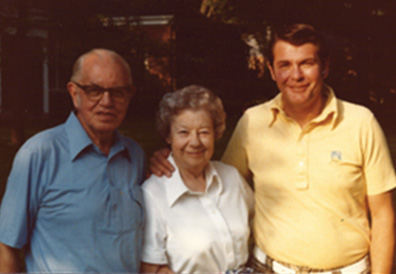 It was the early 1920s when Eunice Schwemm '23 enrolled at Northern Illinois State Normal School to earn a certificate in teaching. Warren G. Harding was president, and women had only recently won the right to vote. 
Even as valedictorian of her class at Barrington High School, Eunice's avenues for professional study were limited. Women of her time generally became nurses, secretaries, or teachers. 
She may not have had many doors open to her, but Northern Illinois' door was wide open. Resolute in her desire to become a teacher, Eunice walked right through that door and flourished as a college student. 
After graduation, she landed a job in the Oak Park public school system, where she taught for several years before marrying Earl Schwemm in 1928 and returning to her hometown to raise a family. 
Although she set aside her lesson plans and grade books, Eunice remained a teacher at heart. Earl made a good living selling insurance for the Great-West Life Assurance Company, while she channeled her passion for education into her roles as homemaker and mother. 
The couple raised three sons: Jack, Dick, and Bob. 
"In an unspoken way, my parents taught us that education was the launching pad to a better life." Eunice passed on her love of teaching to her sons. Bob is the Ashland-Spears Distinguished Professor at the University of Kentucky College of Law, where he has taught constitutional law and civil rights since 1975. 
Dick, a retired IBM executive, teaches adult education courses on the U.S. Constitution, physics, and other topics in New London, New Hampshire.
Creating Eunice's Legacy 
When Eunice passed away in 1999, she remembered NIU with a gift through her estate to provide opportunities for NIU students.
When son Jack, a Chicago-area corporate executive, died in 2011, he, too, left funds for the family endowment. 
Eunice's values live on in her scholarship recipients. The ideal candidate for an award hails from the Chicago metropolitan area and plans to teach in high-need inner-city schools. 
"We are sold in what we are doing at Northern because it's meaningful to others, and we know that's what our mother would have wanted," Bob says. "She believed that if you give people a chance, they will flourish."